Fast, accurate and consistent measurement and inspection for aerospace manufacturers
Our range of non contact metrology and award-winning ergonomic microscopy equipment supports the essential manufacturing processes of high value products, such as aerospace parts and satellite components, giving you confidence that they will perform reliably and consistently to the highest standards.
Fully automated 3-axis measuring
Vision Engineering's LVC fully automated 3-axis measuring systems have the power and versatility to meet the demanding needs of aerospace manufacturers and suppliers. Suitable for subjects of up to (400 mm x 300 mm x 200 mm), they are ideal for measuring large components or, just as easily, batches of small components.
Faster production workflows
LVC promotes greater productivity and faster workflows in the aerospace supply chain by automating time-consuming measuring and inspection processes. Its motorised measuring stage and zoom lens work together for fast, consistent accuracy that you can depend upon. What's more, the multi-position zoom lens allows changes to the magnification to be part of measurement program, eliminating the need for time-consuming manual changes.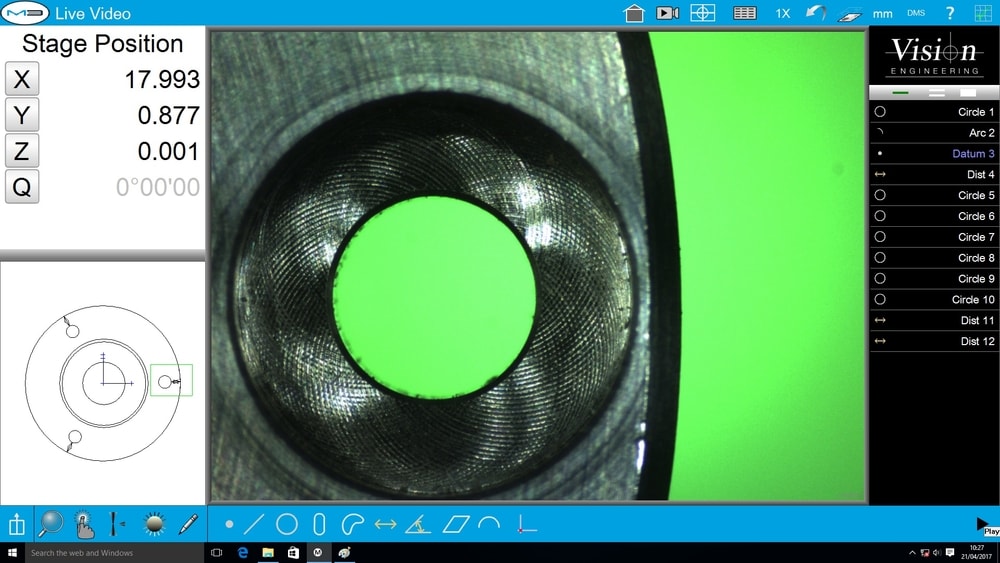 UV inspection of conformal coatings
Our UV illumination solutions, available with Mantis Elite and EVO Cam II, give you a clear view of conformal coating, revealing a range of defects including thinning, pooling, bubbles and contamination, meeting the critical quality and safety standards of the aerospace industry.
Fidelity in the supply chain
Vision Engineering's inspection and measuring solutions help to preserves fidelity in aerospace supply chains by making quick and easy to examine large volumes of components, of any material, from rivets through to complex electrical assemblies. 3D views let you see far more than ordinary 2D systems, and a range of software make it easy to capture images, record measurements and create accurate documentation.
A coherent measurement and inspection strategy
Our range of contact and non-contact measurement solutions give you everything you need to streamline the inspection of any component from the simplest through to the most complex. PCBs, control systems, communications assemblies, safety equipment, radio components, and more, can all flow through the production line more quickly, into quality control and final inspection, fully documented and ready for despatch.
SUCCESS STORIES
Ken Delderfield, Specialist Technologies Aerospace Group Quality Manager
Hawk is the ideal piece of metrology equipment for us. It is easy to use and flexible enough to gauge nearly all of our components. The reporting capability allows me to capture a data file for every component we measure, which is vital for component traceability.
Work better, for longer, with this award winning ergonomic stereo microscope.
Extraordinarily capable, but surprisingly easy to use, Vision Engineering's LVC400.